I didn't get a menu plan up last week although I did have a plan. We're still eating the fabulous chicken soup/stew that Luke made - it was enough for 4 meals! We bought safety gates yesterday for the bottom of the stairs, the laundry and ordered another one for the top of the stairs.
The laundry leads into the downstairs toilet which is really the cats domain , they have their 2 litter boxes in there and at times it's a little messy. We've hopefully cut down on some of that mess by replacing the small shallow box with a big box that has a lid with a door in it so the litter shouldn't all end up on the floor but even so we don't want Jacob rolling around in there. We've also put their food and water bowls in the laundry behind the fence as Jacob's already upset their water twice. I think this maybe a sanctuary for them along with the stairs.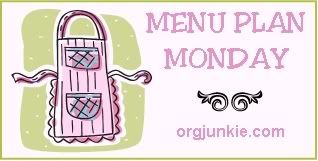 Monday
- Spinach, ricotta and pine nut lasagne
Tuesday
- Chicken Soup, rolls and Queen of Puddings
Wednesday
- Cottage Pie
Thursday
- Slow Cooker Beef Casserole with couscous, roasted pumpkin and leeks in a cheese sauce
Friday
- Lamb casserole with oven sautéed potatoes and steamed broccoli
Saturday
- Luke's probably cooking something this night
Sunday
- Beef Fried Rice (we just bought a new wok at IKEA)
Oy vey you can tell it's winter can't you? Lots of casseroles and other hearty fare. All the casseroles and the soup are coming out of the freezer; I've been stocking up.